1.) Tell me a little about your new class!
"Acting Through Song is a class designed for students to hone their skills in musical theatre, even if they are just starting out. Learning to treat a song like a monologue and use musical cues to help most effectively tell the story is the key to musical theatre acting. For audition purposes, it is also useful to know how to treat a song like a scene, even if you are the only person singing. In this class students will sing each week and get coaching on how to bring the story of the song to life. More advanced students may also get help building out their audition song book so that it becomes more robust and flexible."
2.) Is it a good class for beginners?
"This class is designed for various ranges of ability. Beginners are most welcome but students should be strong enough musically to follow a backing track and stay in tune. Beginners can start to engage with musical theatre and musical theatre auditioning whilst more advanced musical theatre performers will enjoy deeper coaching and audition prep as well as building out their songbook."
3.) What made you decide to come up with/teach this class?
"I wanted to teach this class because musical theatre is one of my favorite acting styles and I adore the emotional engagement good musical theatre performing requires. Good musical theatre works because the story reaches a point where the stakes are so high, the emotions so deep that we cannot speak anymore, we have to lift our voice in song instead. Helping students learn the techniques to engage emotionally at this level is one of my favorite things to teach. In my own theatre training, Acting Through Song was always my favorite class and getting to teach it is a great pleasure."
4.) Singing in front of others can be intimidating – what advice do you have to combat this fear?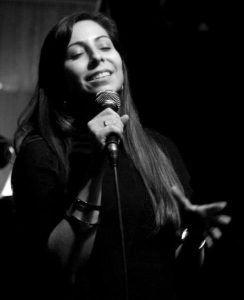 "It is important to know that most singers are scared to sing in public, myself included. It's extremely normal and it happens because our brains can sense the stakes are high. When the stakes are high, our amygdala kicks in and sends us into fight or flight, flooding our body with adrenaline. For me, the best piece of advice I ever received was to think of that feeling as "excitement" instead of fear. Excitement to tell a story, excitement to lift my voice in song, excitement to dig deep emotionally. Fear isn't always a cue something is wrong, sometimes it is just a message what we are doing is big and meaningful. I do think the fact this class is on zoom will help tremendously with easing some of that fear. It is a lot easier to pretend you are just singing in your bedroom when you are literally singing in your bedroom!"
5.) What is your specific background as a teacher for Voice Over as well as Acting the Song?
"I started performing at age 3 and professionally at age 12, almost exclusively in musical theatre. At 18 I moved to New York City where I trained at NYU's Tisch School of the Arts. I split my time at NYU between the Stella Adler studio, the musical theatre studio (CAP 21) and a musical theatre program in London. I ended up staying in London for 7 years after graduation and while I was there worked extensively in musical theatre including two UK Premieres of Broadway shows. Whilst in London I started my voice over career which included a three year contract as the voice of Toshiba worldwide. Since moving back to Seattle ten years ago I have continued to work as a voice actor but took a break from the stage to raise my twins (at least until they no longer care if I'm home for bedtime). I currently co-host one of the top parenting podcasts in the USA, Raising Adults: Future Focused Parenting. More on me: kiradorrian.com"
________________________________________________________________
Acting Through Song with Kira Dorrian begins  Saturday, October 3 at  9:00am.   All fall classes, as well as more information and registration are available here.