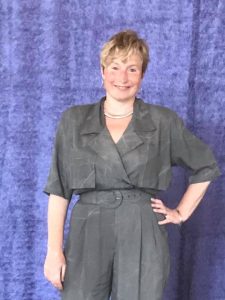 1) Which character did you play?
I played Marion Clay, a recently widowed art gallery owner from Chicago who is in town – with her younger tennis-pro boyfriend – to settle the estate of her former husband, who was a famous artist.
2) Name something you love about your character:
I love Marion's grit and magnanimity. She has experienced a lot of loss in her life – and has developed a hard shell to keep going – but her soft, kind heart is still very much alive. She cares deeply and easily about others and about life.
3) Name something challenging about playing your character: 
The greatest challenge for me was reconciling Marion's big personality with her being on stage for long stretches of time without saying anything. Figuring out what was going on with her in the silences, and how to stay engaged and connected to her objectives and the action on stage without pulling focus was a challenging and interesting project!
4) What was your favorite thing about working on Angels Fall? 
It was very special to work on this piece – about a group of people, many of whom started as strangers being trapped together during a disaster of uncertain proportions – with a group of people, many of whom started as strangers, during this unfolding pandemic was pretty surreal. Both my character and I came away with new, meaningful connections during a potentially isolating time.
5) Prior to R & P, what was your acting background? 
I took acting classes and did school productions from elementary school through college, and then at Freehold in the early 2000s when I first moved to Seattle. I took a long break from acting while my life took some twists and turns and am very excited to be back!
________________________________________________________________
Angels Fall, by Lanford Wilson premieres Friday, August 21 at 7pm online. Event is free, please register here for your ticket.Please join us in the virtual audience! Angels Fall was directed by David Hsieh, and stars Rex Chang, Raza Mahboob, Margery Muench, Alan Plaster, Karin Rogers, and Amit Rosenberg.