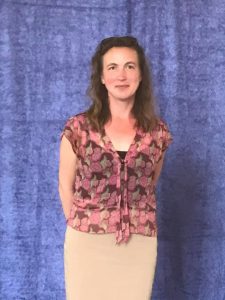 1.) Which character did you play? 
Vita Harris, children's book author & wife of art history professor Niles Harris.
2.) Name something you love about your character. 
I love that despite a rather traditional upbringing, Vita has followed her own path and challenged some of the roles expected of her. She fights to make the world a better place without losing a sense of history. And though she knows how to play the social games necessitated by some of her life circumstances, what she really yearns for is authenticity in her relationships.
3.) Name something challenging about playing your character. 
My initial impressions of Vita made me think that she was not much more than a support person in the life of her husband. It took developing her backstory much more fully for me to fall in love with her and discover her own trajectory in the story beyond her role in the story arc of her husband's character.
3.) What was your favorite thing about working on "Angels Fall"? 
Being able to work in-person with other dedicated fellow actors during these isolating and unusual times made for an incredibly rich creative experience. The parallels between the play and real life situation were interesting to consider.
4.) Prior to R & P, what was your acting background? 
All my previous acting experience has been in education settings, in school and at Freehold. I value this class as a helpful bridge between acting classes and taking part in plays in the wider theatrical community.
________________________________________________________________
Angels Fall, by Lanford Wilson premieres Friday, August 21 at 7pm online. Event is free, please register here for your ticket. Please join us in the virtual audience! Angels Fall was directed by David Hsieh, and stars Rex Chang, Raza Mahboob, Margery Muench, Alan Plaster, Karin Rogers, and Amit Rosenberg.