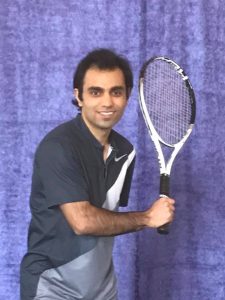 1.) Which Character did you play?
Salvatore Zappala. A hopeful and extremely talented tennis player looking to conquer the world
2.) Name something you love about your character:
I love the way Zappy treats life and people surrounding him, especially his manager/girlfriend. He wears his heart on his sleeve.
3.) Name something challenging about playing your character:
 It was really challenging for me to love and empathize with the Zappy's journey and his roller coaster emotions initially.
4.) What was your favorite thing about working on Angels Fall?
Acting with masks on was definitely one of the most interesting and challenging parts of rehearsing.
5.) Prior to Rehearsal & Performance, what was your acting background?
I have only done coursework prior to R&P. Most of it at Freehold.
_______________________________________________________
Angels Fall, by Lanford Wilson premieres Friday, August 21 at 7pm online. Event is free, please register here for your ticket.Please join us in the virtual audience! Angels Fall was directed by David Hsieh, and stars Rex Chang, Raza Mahboob, Margery Muench, Alan Plaster, Karin Rogers, and Amit Rosenberg.