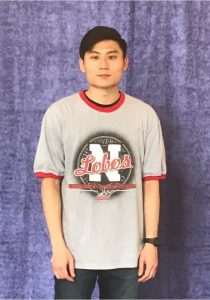 1.) Which Character did you play?
Don Tabaha
2.) Name something you love about your character
I love Don's smugness in the achievements he has worked hard for his entire life combined with his empathy to take care of people as a doctor.
3.) Name something challenging about playing your character
Learning how to act as a doctor that knows what he is doing.
4.) What was your favorite thing about working on Angels Fall?
I really enjoyed working with David and everyone in the cast. I also looked forward to rehearsals (usually) as it was my main outlet amidst the pandemic.
5.) Prior to Rehearsal & Performance, what was your acting background?y)
I studied theater in college and acted in a few plays but this is the first full production I've done since graduating in 2017. I've taken a few classes at Freehold such as Personal Clown, Acting II, and Improv!
________________________________________________________________
Angels Fall, by Lanford Wilson premieres Friday, August 21 at 7pm online. Event is free, please register here for your ticket.Please join us in the virtual audience! Angels Fall was directed by David Hsieh, and stars Rex Chang, Raza Mahboob, Margery Muench, Alan Plaster, Karin Rogers, and Amit Rosenberg.