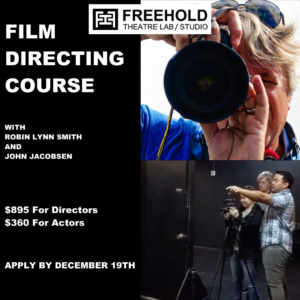 Film Directing Course: Process and Practice for Stage and Film
Freehold is proud to once again offer this one-of-a-kind course for established and aspiring directors. This is one of the few courses in the PNW where directors get to work hands-on with actors, text, on-camera techniques, and post-production tools with master teachers. Directors and actors alike will come away from this intensive course knowing how to effectively work together in theatre and on-camera scene development, a critical success factor for both stage and film. Students will also come away from this course with a short film to use for further professional career development.
Because of the intensive nature of the course, we limit class size to 8 directors in order to give each director hands-on experience and lots of one-on-one work with the instructors and actors. We audition actors and interview directors to join the class, and students will work on a variety of different projects with focus on the following:
what it takes to write a good scene
how to get honest and specific performances
where to put the camera and how to frame (for actors, your relationship to the camera and what you need to know about coverage)
how to edit
Working with theatre text will give directors and actors an opportunity to work with layered, proven material in which a rich subtextual life is necessary; then, directors will move onto filming a short film (i.e., shoot some scenes you have written, shoot scenes we provide, or even shoot a narrative short limited to five minutes). Cast from the course or provide your own cast (and learn important info on the casting process in this course, too).
The proven beauty of this course is that directors will rewrite, shoot and edit that short three times, thus giving the instructors and students the ability to improve it in a systematic way. The course will culminate in a final public screening at a local theater that will give everyone a chance to celebrate their work on the big screen.
This class is an excellent follow-up for students who have taken Directing or Acting for the Camera at Freehold.
To apply, fill out an application. If you have any questions, don't hesitate to reach out at info@freeholdtheatre.org.
Application for directors are now closed.
Directing applicants will be interviewed for placement in the course on January 12, 2023.
Zoom seminars begin Monday, January 23. In-person classes run Thursdays, Jan 26 – Apr 27.
Application for actors are now closed.
Actor applicants will be auditioned for placement in the course on January 19, 2023 and join the Thursday classes starting February 9.