Greetings, Freehold family and thank you for welcoming me!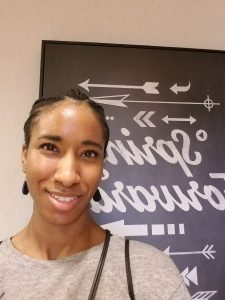 I'm excited to join as your new Registrar and support students and faculty as we enter a new season! Come to me with your questions and feedback about classes, curriculum and studio rentals.
I'm an art, multimedia and administrative
professional with a passion for activating spaces and engaging communities. My introduction to the performing arts came in the form of ballet studies, in which I learned values that inform my work: commitment, creativity and collaboration.
I enjoy all forms of storytelling whether visual, literary or performance-based.
As a community organizer, I host and moderate Salon for Social Justice, which offers online and in-person opportunities for intersectional dialogue and sharing stories. The group is centered around social justice issues and meets for discussion and engagement with relevant arts and culture. I am also a founding board member of Black Lives Matter-Seattle King County. For me, Black Lives Matter is about calling attention to the systemic oppression and injustices that affect Black and brown people daily while highlighting the voices and experiences of the most vulnerable members of the population. It signifies the need to recognize the full humanity of BIPOC individuals and their right to equal treatment in society. I find this resonates deeply with Freehold's mission to honor the full humanity and diversity of its community.
In 2019, I served as a co-organizer of the Seattle Womxn's March and Day of Action and facilitated the Seattle pilot of EmpowerHer, a program at Dress for Success in partnership with Treehouse, focusing on training women in coding and database management, after which they could be employed by leading tech companies.
Upholding the connection between creative expression and mental wellness is vital to me. I hold peer counselor certification through the Washington State Department of Social and Health Services and in my spare time, pursue my love of movement and visual storytelling through dance.
I look forward to getting to know you all this season!