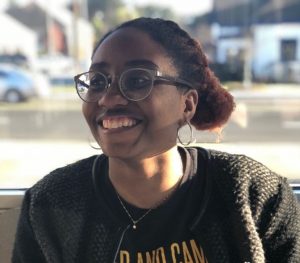 There's a new face (virtually) in Freehold, and it's mine! My name is Janae Brooks, and I am the new Development and Communications Coordinator here at the theatre! You'll likely be seeing me in your inbox every time you get a newsletter and other communications over the course of the year! Aside from appearing in your inbox, you can find me working with the rest of the Freehold team to help create the programs and events that will best serve the Freehold community. 
Prior to joining Freehold, I did a little bit of everything: film and video game production, law, academic publishing, and most recently education and business development in Seoul. Across all of those disparate fields and in my own personal adventures as a writer, I have come to love the power of stories and their transformative capabilities. While at Freehold I hope to further explore the pieces of ourselves that we put into our art as I take classes and work behind the scenes! 
Outside of Freehold, you can find me enjoying books, film, and video games. Whenever we can go to covered places that aren't grocery stores again, I also take up residence in museums, aquariums, and art galleries. Though things are constantly in flux, I look forward to meeting many of you in the future!